Archery Lessons
Diablo Bowmen Archery Club provides outreach programs to the surrounding communities. We offer lessons to both members and non-members by appointment. We can support groups from 5 to 20 members and can offer equipment for those learning the sport for the first time. To schedule a lesson, please contact the Outreach Manager, Melissa Pool at diablobowmenoutreach@gmail.com.
Youth Programs
We will be holding weekly youth archery class on Sunday from 10-11am.
Please verify that class will be held with upcoming events prior to attending by contacting Melissa Pool at diablobowmenoutreach@gmail.com.
There will be no classes on:
January 14th

January 28th

February 11th

February 18th
This class will be for members, but non-members may come out and try the class prior to joining our club. Please email Melissa Pool at diablobowmenoutreach@gmail.com for confirmation of attendance.
Diablo's 900 Round will be held every last Saturday of the Month:
Signups are from 7:30-8:30am
Shoot starts at 9:00
For inquiries or questions you can contact Anton Pirtz at diablobowmen900shoot@gmail.com. The fee to shoot is $10 for members and guests.
We require a minimum of 10 to provide lunch so please RSVP to Anton Pirtz at diablobowmen900shoot@gmail.com.
Due to excessive target damage, maximum bow weight is 65lbs.
Club shoots are for all members and guests! So don't think you need to be a pro to participate. All archery shooting styles and skill levels are welcome to join. Club shoots are held on the 2nd Saturday of each Month at 9:00 a.m sharp. The fee to shoot is $5 for members and $6 for guests. Lunch is $5.
For a qualifying score you will shoot 2 rounds, one field and one hunter (4 arrows at each target).  This is the beginning process to obtain a handicap. You will need three qualifying scores within a 12 month period in order to obtain a handicap.
For inquiries or questions you can contact Cleon Winter at 925-779-9768 or email: cleon.winter@gmail.com.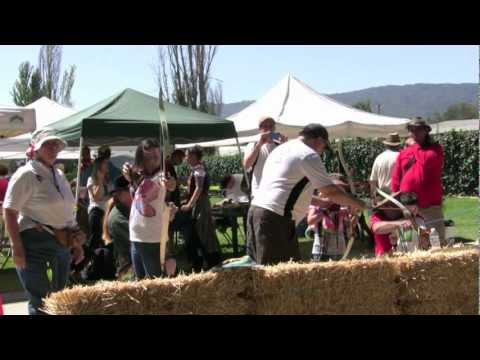 "Wow, well we pulled it off.  It was successful as evidenced from the smiles, compliments and organization.  I enjoyed doing this event with fellow members and friends and I hope you all did as well.  It could not have happened without the help of each and every one of you (Kathy, Pete, Rick, Bruce, Sharla, Cleon, Ivan, Cindy, Scott, Kent, Carl, Cory, Dakotah, Miguel, and other volunteers).  We exposed a lot of hopefuls to the sport of archery; answered questions; and gave direction.   I just wanted to personally thank all of you for giving your time on a holiday weekend to help Diablo promote archery and boost our account so that we can continue to do so in the future."  ~ Angel
Extra footage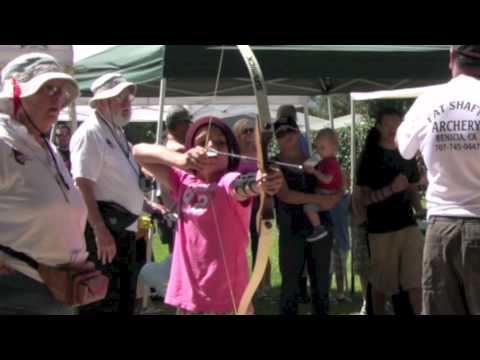 Open to the Public One Day Only
June 21, 2014 – 9 a.m. to 3 p.m.
Don't miss your opportunity to try Archery!  We are located off of Morgan Territory Road and  Oak Hill Lane in Clayton, California.
For $10 you receive an Archery Lesson and Lunch. [Instruction; equipment; range tour and hot dog lunch with chips and a drink]
Lunch will only be available between 10:30AM— 2:30PM. No refunds will be given if you do not eat lunch before 2:30PM.  Note that with or without lunch the cost remains at $10.00.
Directions
On Morgan Territory Rd, turn into Oak Hill Ln, which is a winding uphill road.
Stay on the right at all times.
Continue driving to the end of the road, towards the Diablo Bowmen gate.
For inquiries, contact Angel via email at fifthwheeler2004@gmail.com or phone at 925-381-4590.
Update
Wow what a day! The Diablo crew taught over 300 people the fine art of archery. It was a long day but well worth our accomplishment. I believe we started the next generation of archers. I want to thank my team out there today. We worked like a well oiled machine.
Video clips from the event will be posted on the Diablo Bowmen Facebook page. Be sure to Like our page.
-- Angel Yarnell
---
Don't miss your opportunity to learn archery or visit Diablo Bowmen! The club is open to the public for one day only: June 22, 9am – 3pm
No prior archery experience is required. The $10 admission gets you not only basic archery lessons at the range – which is usually closed to the public – but also a lunch (hot dog, chips and a drink) at the club's cook shack. Tour of the range and equipment are provided.
The event is kid-friendly. The club will provide instructions, safety training, and shooting tips. Field archery is a very safe sport. Guests are advised to wear tennis shoes or hiking boots – not sandals – and bring sunscreen.
Here's more info:
Archery 2013 Open House Flyer
Driving directions:
http://diablo-bowmen.org/contact/#location
Teaser #2:

Teaser #1:

Trailer:

Sherri Livingston, Deer Valley High School English teacher and her students picked up the bow and arrow for the first time after winning lessons in a "Hunger Games" recipe contest for their goat cheese and herb bread dish. On Sunday, July 8, 2012, the class from Antioch, CA, visited Diablo Bowmen to learn archery.
Here's a video of the event: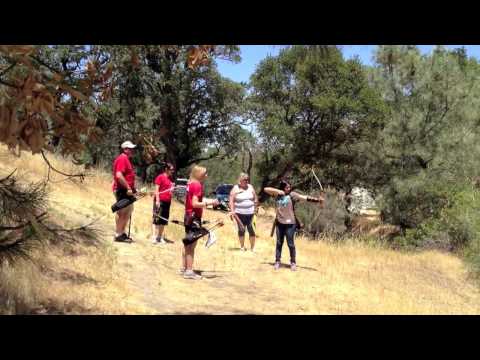 Read more about the event in the Mercury News website.
On May 5, 2012, the Northern California Girl Scouts celebrated its 100th anniversary on Pleasanton Fairgrounds.  21,000 girls attended the event. At least 2,500 held a bow and shot an arrow that day.  The program was organized by Diablo Bowmen, Extreme Archery, Girls Scouts of America, and volunteers from various archery clubs in Northern California.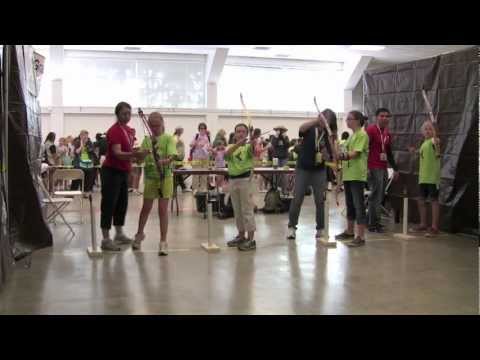 See more photos on our Facebook page.
Come join us on our next event on May 20th, Red Devil Cartoon Shoot.
If you want to try out archery or become a member of our club, join us on June 9th for the Open House.